I was going through my archives, and came across this article I penned 11 years ago. I think it speaks to us today, as we are striving as a congregation to move forward, to grow, and to build.
Many of you shared with me an overwhelming sense of joy as we together beheld the demolition of the infamous Centinela Motel. It was a big day for us all, and a turning point in the life of our church. My excitement was not based on the fact that I delight in destruction, but was grounded in the reality that the removal of the old is necessary for the emergence of the new. Observing the workers wield their wrecking bars and swing their sledgehammers gave me pause to think about the contrast between the processes of building and demolition.  The result was that I arrived at a newfound appreciation for builders. Please don't misunderstand me.  I deeply appreciate our wrecking crew, for they performed a valuable service. It's just that I have a deep sense of admiration for those who are able to envision, to plan and to build, for it takes a much greater level of skill, sophistication, patience, perseverance and creativity to build than it does to tear down.
Read more...
---
As the inaugural entry of this blog, I'd like to share something I wrote in 2002, based upon a very enlightening book I had the privilege of reading. The title of this piece is "Growing Together, Rowing Together," and is about the role of teamwork in ministry.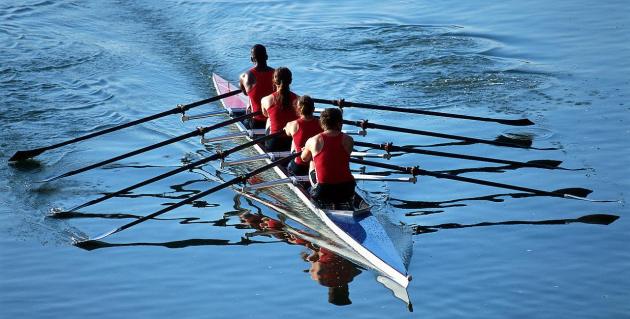 In his book, Doing Church as a Team (Regal Books, 2001) Wayne Cordeiro, pastor of the 8,000-member New Hope Christian Fellowship in Honolulu, Hawaii, likens ministry to the sport of team canoe paddling, one of Hawaii's most popular sports. We pick up the story as Wayne and a group of friends report for canoe lessons and receive their initial instructions:
'We're going to paddle our first stretch of water. It will be an eighth-of-a-mile sprint. When I begin the stopwatch and say 'Go,' just paddle as fast and hard as you can. When we cross the finish line, I'll notify you. That's when you can stop paddling. Got it?" How hard can this be? I thought. Even women paddle canoes. This ought to be a breeze! Just then, my self-confident thoughts were shattered by the sharp call of our coach. "Ho 'omakaukau? I mua!"  In English it means, "Ready? Go Forward!"
Read more...
---