Grace Chapel is part of the Foursquare Church. We proclaim Jesus as our Savior, Healer, Baptizer in the Holy Spirit, and Soon Coming King: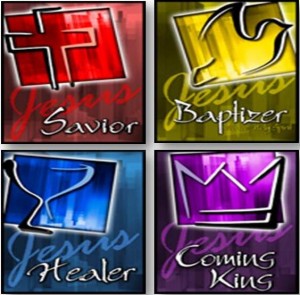 THE SAVIOR
"But He was wounded for our transgressions, He was bruised for our iniquities; the chastisement for our peace was upon Him…" –Isaiah 53:5 (Titus 2:14, Isaiah 55:7, Hebrews 7:25, Isaiah 1:18)
THE BAPTIZER WITH THE HOLY SPIRIT
"For John truly baptized with water, but you shall be baptized with the Holy Spirit… you shall receive power when the Holy Spirit has come upon you; and you shall be witnesses to Me in Jerusalem, and in all Judea and Samaria, and to the ends of the earth." –Acts 1:5,8 (John 14:16-17, Acts 2:4, Acts 8:17, Acts 10:44-46, 1 Corinthians 3:16)
THE HEALER
"He Himself took our infirmities and bore our sicknesses…" –Matthew 8:17 (Mark 16:17-18, Matthew 9:5-6, Acts 4:29-30)
THE SOON-COMING KING
"For the Lord Himself will descend from heaven with a shout… the dead in Christ will rise first. Then we who are alive and remain shall be caught up together with them in the clouds to meet the Lord in the air. And thus we shall always be with the Lord." –1 Thessalonians 4:16-17 (Titus 2:12-13, Matthew 24:36-44, Hebrews 9:28, Luke 19:13, Luke 12:35-37.)
Values
The why, what and how that shapes our lifestyle
The Foursquare Church embraces the following concepts and behaviors in pursuit of a community of believers that is bound together with a common belief system and ethic:
We value praying.
We value relying upon the Scriptures as God's infallible word.
We value striving for balance in doctrine and practice.
We value practicing sensitivity and awareness.
We value practicing compassionate justice.
We value having concern for a lost world.
We value being Spirit-led into unfamiliar paths.
We value embracing diversity (generations, genders, ethnicities).
We value teaching people about God and how to live.
We value caring for leaders.
We value cultivating a relational family.
We value releasing people into their God-ordained ministries.
We value managing our resources with excellence.
We value practicing creativity and innovation.